Gifts for Your
Event
Lothian Kilt Rentals offers a wide assortment of Highland gifts to accompany your rental, for your guests/attendees, or for yourself! All of our gifts are offered online through our bagpipe supplies store – www.LothianBagpipeSupplies.com.
Sgian Dubhs

The sgian dubh (skee-ən-doo) is a small, single-edged knife worn as part of traditional Scottish Highland dress along with the kilt. Originally used for eating and preparing fruit, meat, and cutting bread and cheese – as well as serving for other more general day to day uses such as cutting material and protection, it is now worn as part of traditional Scottish dress tucked into the top of the kilt hose with only the upper portion of the hilt visible. The sgian-dubh is normally worn on the right leg, but can also be worn on the left, depending on whether the wearer is right or left-handed.
Click here to visit our Sgian Dubh collection
Kilt Pins

The kilt pin is a piece of jewelry that is worn on the lower right corner of the outer apron of a kilt. Its function is to prevent the apron falling or blowing open, by adding weight to the outer apron. It does not pin the outer apron to the inner fabric. It is common for kilt pins to be decorative with many featuring clan symbols, national emblems or native animals and plants.
Click here to visit our Kilt Pin collection
Tartan Garter Belts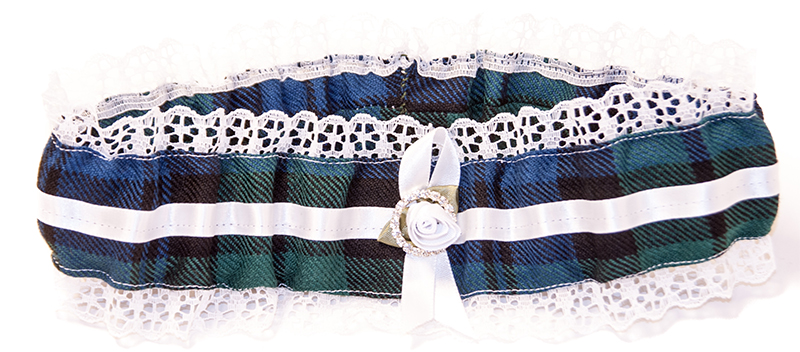 These locally hand-made tartan garters are available in any of our rental tartans. This is the perfect wedding bridal accessory to go with your kilt rental! Please allow at least 1 week for delivery. The tartan garters are custom made for each order and are available for only $30!